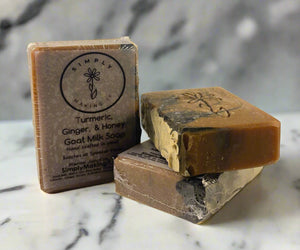 NEW!! This one certainly stands out because of all the great ingredients packed inside! With turmeric, ginger, honey, bentonite clay, activated charcoal, added to the already fabulous shea butter, coconut oil, and olive oil, you can't go wrong. The benefits of these ingredients are almost too much to list here, but we'll touch on a few. Try it out and let us know what you think!
This listing is for one bar of soap.
Ingredients: goat milk, coconut oil, shea butter, olive oil, lye, turmeric, ginger, honey, bentonite clay, activated charcoal
---
Staying away from man-made chemicals and using these natural products instead is doing your skin a favor! 
---
**Natural and Simple Ingredients:
Turmeric has anti-inflammatory properties that aid in brightening dark spots on your skin and reducing other blemishes.
Ginger rejuvenates your skin, flushing out toxins and evening your skin tone. It is also a powerful and natural cleanser.
Honey is deeply moisturizing and hydrates your skin.
Activated charcoal draws out toxins from your skin and reduces the oil build up that leads to breakouts. It can leave you with clearer and cleaner skin!
Bentonite clay lightens acne scars and tightens skin, leaving you with a refreshed appearance. 
Milks soaps are very rich and moisturizing and can be used on your face and body daily. My most commonly used skin care ingredients are the ones best suited for delicate skin types. 
Shea Butter provides moisture and nourishes the skin. 
Olive, Castor, and Jojoba Oils act as humectants. They attract moisture to your skin and actually helps keep it there. 
Coconut Oil gives you the hard soap bar and rich fluffy lather that makes your bath time luxurious.