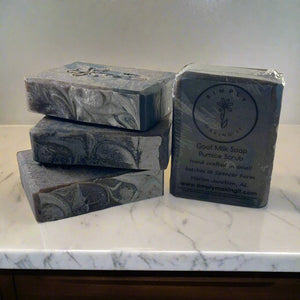 NEW! I struggled with what to name this one. Is it a mechanic's soap? Painter's soap? Gardener's soap? I almost settled on Farmer's Soap, because we do tend to be all of those things around here. Ultimately I decided on simply calling it Pumice Soap, even though it has tons of other super scrubby ingredients. Perfect for exfoliating or just plain scrubbing grime (of whatever origin) from your hands. With a scent blend of Eucalyptus and spearmint, it also smells amazing. 
Ingredients: goat milk, natural shea butter, olive oil, coconut oil, cocoa butter, pumice powder, kaolin clay, alkanet root powder, activated charcoal, EO and FO Blend
---
**Natural and Simple Ingredients:
Milks soaps are very rich and moisturizing and can be used on your face and body daily. My most commonly used skin care ingredients are the ones best suited for delicate skin types. 
Shea Butter provides moisture and nourishes the skin. 
Olive Oil acts as a humectant. It attracts moisture to your skin and actually helps keep it there. 
Coconut Oil gives you the hard soap bar and rich fluffy lather that makes your bath time luxurious. 
Cocoa Butter also moisturizes and lays down a protective layer to help retain your skin's softness.