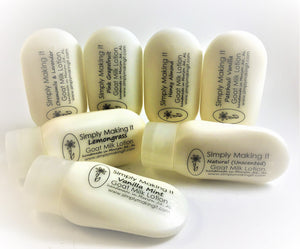 Made with real goat's milk from our farm, this moisturizing lotion contains essential oils, avocado oil, avocado butter, sweet almond oil, cocoa butter, and vitamin E. Other ingredients essential to creating lotions are emulsifying wax, stearic acid, and a light preservative. 
This listing is for Patchouli Vanilla
Also available in:
Natural (Unscented but has a light chocolatey scent from the natural cocoa butter).
Pink Grapefruit 
Lemongrass (Doubles as a great natural insect repellent!)
Vanilla Mint
Chamomile & Lavender
Honey Almond
Everything you need for moisturizing and healing your face and body.
2 oz.
---
**Natural and Simple Ingredients:
GOAT MILK is very rich and moisturizing and can be used on your face and body daily.  My most commonly used skin care ingredients are the ones best suited for delicate skin types.
Sweet Almond Oil makes an excellent moisturizer for both the skin and hair, and it may even help prevent stretch marks and protect your skin from sun damage. (see more)
Avocado Butter is healing and moisturizing. It contains protein amino acids, and vitamins A, D, and E, and is particularly good for sensitive skin.
Cocoa Butter also moisturizes and lays down a protective layer to help retain your skin's softness.