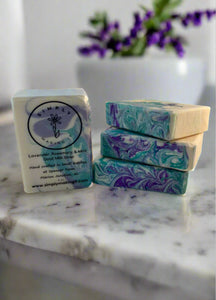 New Scent! This scent was requested by a customer for a personal loaf, and I enjoyed it so much that I decided to add it to my line. Another one of my favorites, with pure essential oils and fun swirls! 
Ingredients: goat milk, lye, shea butter, olive oil, coconut oil, EO, mica
**Natural and Simple Ingredients:
Milks soaps are very rich and moisturizing and can be used on your face and body daily. My most commonly used skin care ingredients are the ones best suited for delicate skin types. 
Shea Butter provides moisture and nourishes the skin. 
Olive, Castor, and Jojoba Oils act as humectants. They attract moisture to your skin and actually helps keep it there. 
Coconut Oil gives you the hard soap bar and rich fluffy lather that makes your bath time luxurious. 
Mica has properties that help the skin look smooth and healthy.