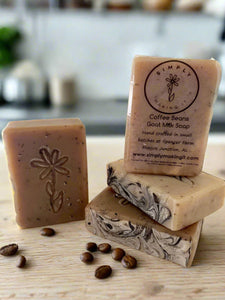 The aroma of fresh roasted coffee beans with a hint of vanilla and sugar crystals makes this a delightful soap!

Ingredients: goat milk, natural shea butter, olive oil, coconut oil, EO and FO Blend, coffee
**Natural and Simple Ingredients:
Milks soaps are very rich and moisturizing and can be used on your face and body daily. My most commonly used skin care ingredients are the ones best suited for delicate skin types. 
Shea Butter provides moisture and nourishes the skin. 
Olive, Castor, and Jojoba Oils act as humectants. They attract moisture to your skin and actually helps keep it there. 
Coconut Oil gives you the hard soap bar and rich fluffy lather that makes your bath time luxurious. 
Coffee has lots of benefits including reports of helping with cellulite reduction, anti-aging affects, acne, as well as calming exfoliation effects. (see more