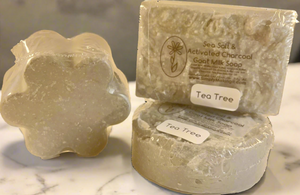 Packed with skin loving Himalayan Sea Salt, this soap is a longer lasting hard bar.
It was formulated as a facial soap, but can be used all over!
This listing is for 1 soap. The soaps vary in shape and size and are roughly 3.5 - 4 oz each.
Ingredients: Goat Milk, Shea Butter, Avocado Butter, Organic Coconut Oil, Sea Salt, Activated Charcoal, Kaolin Clay, and Pure Essential Oils.
--
Natural and Simple Ingredients:
Milk soaps are very rich and moisturizing and can be used on your face and body daily. My most commonly used skin care ingredients are the ones best suited for delicate skin types. 
Shea Butter provides moisture and nourishes the skin. 
Coconut Oil gives you the hard soap bar and rich fluffy lather that makes your bath time luxurious. 
Sea Salt is a great for your skin and helps with acne, circulation, exfoliation, natural oil balance, and restores your skin to it's original PH. (see more) 
Activated charcoal effectively cleanses the skin, unclogs pores, removes deeper impurities, and dead skin cells. The result is smooth, supple, and even-toned skin.  (see more)
Kaolin clay has been used for centuries to absorb excess oil from the skin, preventing breakouts before they begin.